The Beauty Of Tamil Brahmin Weddings
TAMBRAHM WEDDINGS: A GUIDE TO TAMIL BRAHMIN WEDDING RITUALS WITH PHOTOS, VIDEOS
What Is A Tambrahm Wedding?
Tambrahm Or Tamil Brahmin is a phrase used to refer to the Brahmins who trace their origin to Tamil Nadu. Tambrahm weddings in 2021 are now a mix of classic events like Oonjal, Kashi Yatra etc. and modern introductions like Mehndi and Sangeet.
The Tamil Brahmin wedding rituals are based on the four Vedas – Rig, Yajur, Sama and Atharva. Some prefer to give a modern touch to the rituals to make them more relatable. Unlike other weddings, for Tamilians, the spiritual symbolism of each ritual remains the most important. It may not be all pomp and circumstance, but it surely is personal.
"Maangalyam thanthunaanaena mama jeevitha haethunaa kanttae bathnaami supahae sanjeeva sarasa satham…"
Recited by the groom during the important Mangalya Dhaaranam ritual of a Tamil Brahmin wedding, the mantra translates to "This yellow rope is managala suthram, a source of longevity. I shall now tie this rope in your neck. I pray you live happily for a hundred years." It symbolises the union of two souls, the beginning of the Grihastha ashrama of a person's life.
Indian weddings are known for their grandeur and vibrance. Tamil Brahmin weddings, especially hold a special place because of their meaningful rituals and ceremonies that bring two families together. We've put together a guide to Tamil Brahmin Weddings below. It includes Tambrahm Wedding Rituals, Tamil Brahmin Photography, Wedding Videos & Wedding Films and more!
Tamil Brahmin Wedding Rituals
There are different Tamil Brahmins groups – Iyers, Iyengars and Gurukkal. Many of the rituals are performed by all while some might be unique to only one sect.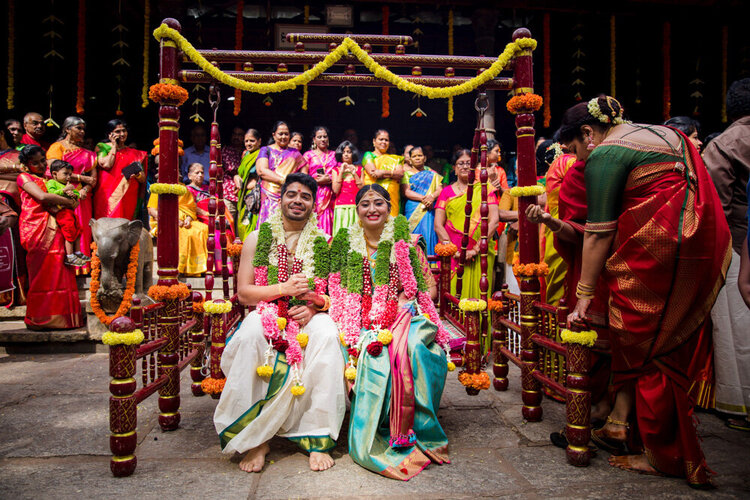 Tamil Brahmin Wedding Albums
Click on one of the below links to see a complete Tambrahm wedding with photos and videos.
The Tambrahm Bride
Tambrahm Wedding Videos & Songs
Tamil Brahmin Wedding Videos are vibrant, full of traditional rituals and a lot of family fun. We'll keep adding both Iyer and Iyer Wedding Videos to the below Youtube playlist.
When Are Tamil Brahmin Wedding Usually Held?
Usually held over a period of two days (may extend to four days), the dates for a Tamil Brahmin wedding are decided by a pundit by matching the horoscopes of the bride and the groom. Tamil weddings are avoided in the Marghazhi (Dec 15th to Jan 15th), Aadi (July 15th to Aug 15th) and the Purattaasi (Sep 15th to Oct 15th) periods.
Living Happily Ever After!
After the wedding, sometimes if the bride and groom wish, a grand reception is held that has Carnatic music and traditional farewell gifts like coconuts, flowers and thamboolam (fruits, kumkum, betel leaves and areca nuts).
All of this together results in the creation of a memorable wedding that the bride and groom remember forever.